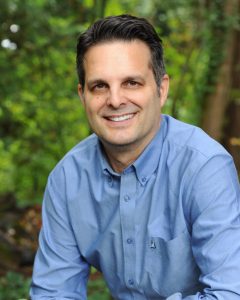 Happiness is a byproduct of helping others.
– Royden G. Derrick
Our mission is to provide the finest, quality dentistry in a relaxing, caring environment so our clients can smile, be healthy and live life to the fullest extent. Our office's highest satisfaction comes from helping others.
Dr. Vaughn Teuscher was born and raised in Vancouver, Washington. He is an Eagle Scout and attended Fort Vancouver High School. He received his undergraduate degree from Brigham Young University. He also studied abroad in Vienna, Austria, and traveled extensively throughout Europe before receiving his DDS from the University of Washington School of Dentistry in 1990. He is a member of the American Dental Association®, Washington State Dental Association and Clark County Dental Society. He speaks fluent Spanish. To provide the best service and keep abreast of new advances in dentistry, he regularly attends continuing dental education and various study clubs.
Dr. Teuscher is an active member of the community and enjoys serving in his church. He is a private pilot, and he enjoys traveling, skiing, scuba diving and basketball. He has been a musician for many years, with emphasis on the piano. He loves spending time with his wife, Caryn, four children, Tiana, Carson, Brigitta and Gemma, and three grandchildren.
Meet Our Team
When you visit our dentist at Two Rivers Dentistry, you will be in the hands of caring, experienced dental professionals who will treat you well and make you feel comfortable with the treatments you receive from Dr. Teuscher. We invite you to contact our office at 360-256-1202 today. We can see you for a dental examination in Vancouver, Washington, and help you get started on planning your new smile.